101 Free Offline Chrome Unblocked Games (Extensions)
Last updated 03/03/2022
The collection of the top free offline Free Chrome Unblocked Games created by HTML5, CSS & Javascript – 100% safe, no Malware, no Virus, and no special permission (reviewed by the Google team). You can install it on your Google Chrome with just 1 click, less than 1Mb per game & doesn't take too much memory. Let's try it now!
The world of the Unblocked Games: Unblocked Games 4all

Sponsor
Chrome Unblocked Games Extension
Click on a game icon to install it from Chrome Web Store. ADS will appear only once after installing
Games on Web
Click on a game icon to play it directly from the web. In case you don't want to install the chrome games extension
We are updating more…
What's Offline Chrome Games
Offline Chrome Games are games that were built only for Google Chrome, easy to install (just click), lightweight, no ADS, and 100% offline. Those games can help you reduce stress after a long day of work, kill time when you are waiting for fixing internet problems,… We will update those games and always listen to your feedback. If you have any problem or any feedback, please feel free to contact us at Contact
We DO NOT collect any information from users. Read more about Privacy Policy
Don't forget to share Free Offline Chrome Game Extension with your Friends. Thank you <3
FAQ
How to install Chrome Games Extensions? (Step by step)
Step 1: Go to the Chrome web store, search for the game you want to install OR install it from the link
Step 2: Click Add to Chrome button
Step 3: Click OK then wait for 2-3s
Step 4: Pin the extension to the Chrome toolbar
Enjoy!
How to uninstall a Chrome extension (Chrome Games)?
Step 1: Type chrome://extensions/ on your Chrome address bar
Step 2: Find the extension that you want to uninstall
Step 3: Click on remove -> remove
Enjoy!
Can I install W3technic's Chrome Game on Microsoft Edge?
Yes, our extensions work well with Microsoft Edge Browser
What is a Google Chrome Extension (Chrome Games)?
Google Chrome extensions are programs that can be installed into Chrome to change the browser's functionality. This includes adding new features to Chrome or modifying the existing behavior of the program itself to make it more convenient for the user.
Examples of the type of functionality that a Google Chrome extension can add to Chrome include:
Blocking ads from being displayed
Optimizing memory usage so that Chrome runs more efficiently
Adding to-do lists or notes to Chrome
Password management
Making it easier to copy text from a site
Protect your privacy and make web browsing more secure.
As you can see, extensions offer a wide range of extra functionality so that you can perform tasks easier or get more out of the websites you visit.
Unfortunately, while most Chrome extensions are beneficial, some developers create extensions that negatively modify the behavior of Chrome. For example, adware developers may install Chrome extensions without your permission that inject advertisements onto web pages that you are viewing, change your search provider to a site under their control, change the new tab page, or hijack your home page.
How do you use a Google Chrome Games Extension?
How you use a Google Chrome extension depends on the particular extension. Some extensions work in the background and perform particular tasks automatically. Other extensions will add menu options to the menu when you right-click on a web page as shown below.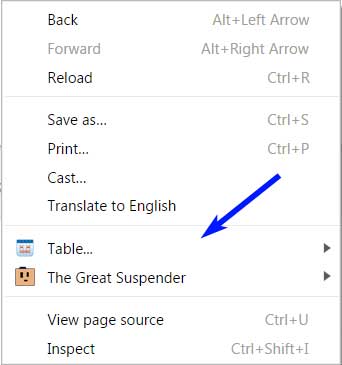 Extension Adding Options to Right-Click Menu
Most extensions will also add small icons to the right of the address field in the browser. These icons can be clicked on or right-clicked to access the functionality of the extension. You can see an example of extension icons in the image below.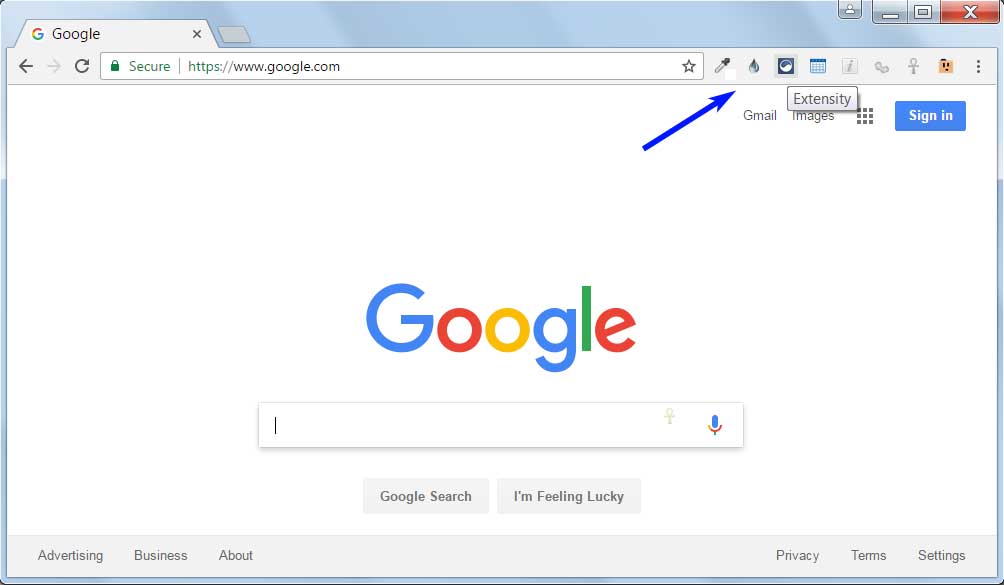 Where can I find Google Chrome Games Extensions to Install?
Check out the top of Chrome Games Extensions
While some developers offer direct downloads of their extensions, the best place to install get a Chrome extension is from Google's Chrome Web Store. While this site is called a store and there are some extensions that you need to purchase before you can use them, the vast majority of extensions listed here are for free.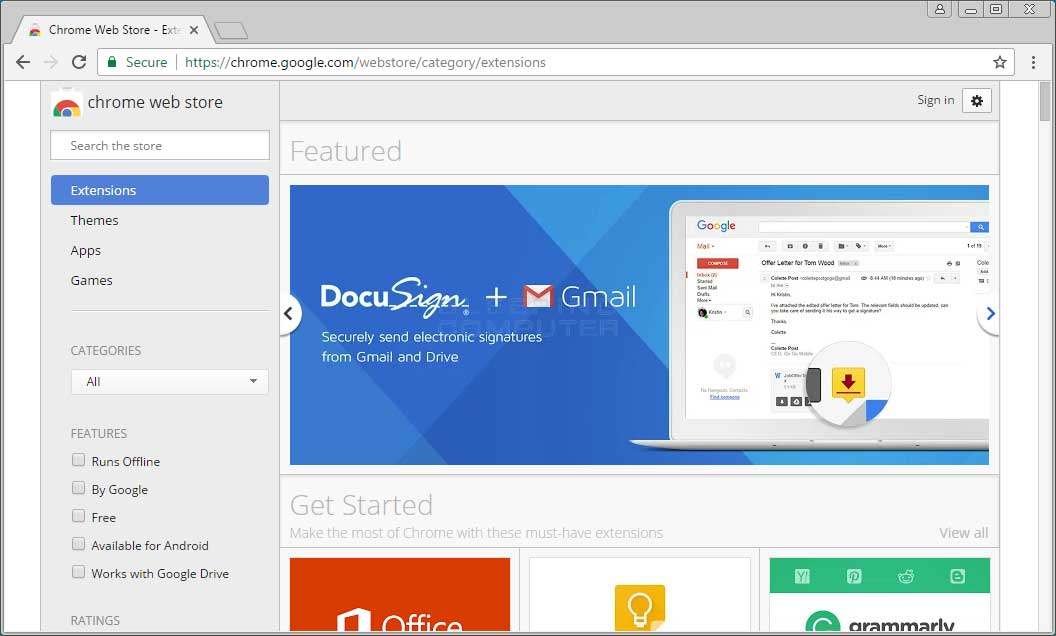 Google's Chrome Web Store
To use the store, simply search for an extension by keyword or browse the categories listed in the store. It is important to be careful when installing extensions, though, as the more extensions you install the more memory Chrome will use on your computer. Therefore, only install an extension that you plan on using.
Furthermore, it is important to read the reviews of an extension before you install it. This is because many do not work properly or are designed to just change your search engine, start page, or new tab page. These types of extensions should be avoided.
Am I safe while using your Chrome Games?
100% safe, all game from the collection was reviewed by Google, we DO NOT collect any private or public information, all our extensions also DO NOT require any special Chrome extension permission. Read more about Privacy Policy
8 interesting facts about Google Chrome that you may not know
Agree or not, but Google Chrome is one of the most commonly used web browsers worldwide. Originally released in 2008, and since then we've always seen better versions of our favorite browsers with each new update. Thanks, Google!
As Chrome turned 10 years old this year, we saw a lot of big updates from improved design to enhanced security. Sure, a makeover to celebrate!
So we all love Google Chrome (a little more than other browsers), here are a few facts about Chrome that you might not have known. Let's explore some of the best of Google Chrome, our hidden tips and tricks to get the most out of our surfing experience.
Use the Search Bar as a Calculator
Use Search Bar as Calculator in chrome
Whether you're struggling with some tricky calculations or doing the basics like double-checking your grocery bill, Chrome could be your go-to service. Yes, that's right! No need to grab your phone or open the calculator app anymore. You can use the Google Chromes search bar to do simple calculations and get instant results. Doing so can significantly save your time and effort.
The little things you do…
The little things you do in chrome
Well, you might find it quite interesting but Google keeps track of every little detail of our recent activities while browsing. For example, if you have more than 100 Google Chrome tabs open on your smartphone, you'll see a little Smiley in the top right corner. And in the case of the Incognito tab, you will see a wink icon. Like we said earlier, Google pays attention to the little details!
See more:-
Direct mp3 link
Direct mp3 link in google chrome
Most of us love to download our favorite tracks as a collection. Google Chrome can help a lot if you are willing to download mp3 tracks on your system. If you want to see live mp3 links of your favorite tracks then what do you need to do.
Copy this link on Google Chrome's search bar: intitle: index. of? Mp3 [followed by song name]
You will be surprised to see the results. An index of the files will appear on the screen. All you have to do is right-click on the song title and click Save Link to download the mp3 on your system. It can save a lot of time and effort and you can download all your favorite music in a flash. Yes, you can thank us later!
Experience the Earth View
Experience Earth View in chrome
If you are a real admirer of the beauty of the Earth then download this extension called Earth View From Google Earth. After this extension is successfully installed on your web browser then every time you open a new tab you will see a new breathtaking beautiful image of Earth from Google Satellite image Earth. And if you love any image, you can also save and download it on your system, use it as wallpaper or something, share it on social media, and so on.
See more:-
How to speed up your Chromebook Want to boost your Chromebook's performance? We've got you covered. Here are 6 simple ways to speed up your Chromebook…
Welcome to Stellar Quarter
Welcome to Stellar Neighborhood in the chrome browser
There is a site that is 100,000 stars so the deal goes like this! If you open it on Google Chrome, you can explore the whole amazing galaxy which is full of stars and constellations. This is one of Chrome's tests and the site runs on awesome Javascript hacks that are only compatible with the Google Chrome web browser. Must try it!
Use Chrome to Remove Notes
Use Chrome to take down notes
Why rely on a third-party note-taking app when Google Chrome can do the work for you?
Just enter data: text/HTML, [Text] and in the search bar to quickly record everything while browsing. You can also use this feature on your smartphone and even save your notes as PDF files.
Use Chrome as a Media Player
Use Chrome as a Media Player
Not many of us know about this, but Google Chrome can also act as a dedicated media player. You can use it to play the most popular audio, video, and photo formats to avoid the hassle of launching or installing a separate media player application.
Use Chrome to view images
Use Chrome to view images
Just like media files, Chrome is a suitable platform for viewing images. All you have to do is drag and drop the image file into the browser
Chrome browser. Tada!
So folks, here are some of the best facts about Google Chrome that most of us don't know. Hopefully, after learning about this cool information, tips, and tricks, you will love Chrome even more!